Become a LINK Franchisee
We have now expanded into the competitive US market, with our first offices in Los Angeles, St. Louis, San Diego and Phoenix. Now that we have established our presence we plan to expand our office locations and bring our unique brand of industry tailored business brokerage to the rest of the US. We are particular about who we do business with, but if you are an existing business broker or owner of a business brokering company (even if you are currently with another group) and are successful, with impeccable integrity - we would like to hear from you.
Contact LINK's USA Principal, Ron Hottes for a totally confidential discussion; Email Ron Here or phone him on (310) 539-8300.
We can also send you our 24 page brochure "Partner Overview" outlining the many benefits of joining LINK, and what's in it for you.
Our marketing is second to none, our broker tools are revolutionary, our software system is powerful and world-leading and our support is real. We work with individual offices to help them grow and prosper, we don't just sign you up and move on. LINK has truly changed the landscape of business brokering, and now its unique system is available in the United States. Don't miss the opportunity, as franchises locations are limited.
Read Ron Hottes open letter and learn why he joined LINK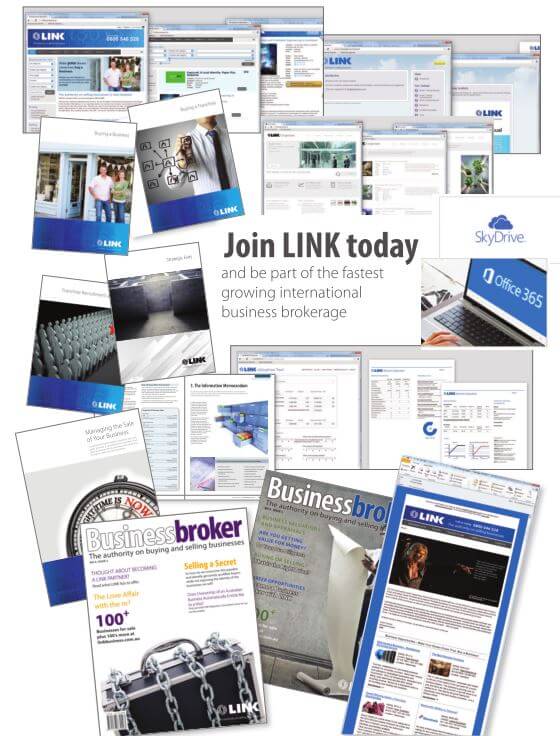 Become a Business Broker
LINK is always interested in offering equal employment opportunities to motivated individuals who are seeking to join our world class team of business brokers. With over a decade of experience in the brokering market, we have established ourselves as industry leaders with an excellent reputation.

The ideal candidate for the LINK team is someone who takes satisfaction in achieving goals, and welcomes challenging opportunities. Reparation is performance based, allowing our brokers greater earning potential. Applicants need to be able to back themselves during the start-up phase which is usually a 4-6 month period.

From then on you can rely on the support of LINK's experience, resources and professional development network. An environment where your career can truly thrive.


Why LINK?
LINK has positioned itself as a world leading brokering group and is highly experienced in the sale of the mid-to-upper end of businesses.
LINK is devoted to expanding the resources that are available to its business intermediaries.
LINK is devoted to maintaining a high standard of professionalism in all aspect of their business.
LINK strives to maintain a comfortable, healthy working setting where employees enjoy their work and individual successes are rewarded.
LINK is constantly implementing new strategies which differentiate them from their competitors.
If you believe you have what it takes to be part of the LINK team, contact us today.
Make an Inquiry